CLIMBING EQUIPMENT
ELMEC can supply and inspect a wide range of portable climbing equipment for professional use. Think of various versions of ladders, stairs and scaffolding material. The basic principle is the delivery of quality, applicable in an industrial environment to safely perform work at height.

We are happy to help you find the right climbing equipment for your application. Ask for the possibilities.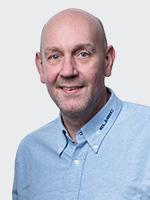 Jean Paul Peeters
Sr. technical advisor lifting equipment,
Technical advice, inspections and work equipment.
+31 (0)77- 308 10 97
j.p.peeters@elmec.nl